Example – Inaccuracy Circles
Standard inaccuracy circles illustrate the local inaccuracy of a map. A large circle indicates a large positional inaccuracy.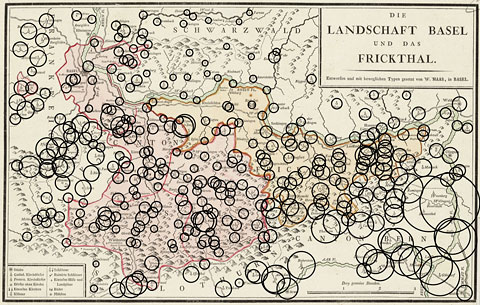 "Die Landschaft Basel und das Frickthal" by W. Haas, 1798, with accuracy circles.
A circle's radius depends on the accuracy of the position relative to the neighboring points. Standard inaccuracy circles have been developed by Mekenkamp. For more information see Mekenkamp, P. G. M. (1990). Die Entwicklung einer neuen Methode für die Bestimmung der Genauigkeit von alten Karten. 5. Kartographiehistorisches Colloquium 1990, Oldenburg, Dietrich Reimer Verlag, Berlin.